Air Circuit Breakers (ACB)
Air circuit-breakers (ACBs) protect the largest LV lines, carrying currents up to 6300 A. They can be used for source coupling or changeovers. To all high-level electrical professionals, MasterPact sounds like a saga of innovative breakthroughs. Experience full connectivity of the latest generation, Masterpact MTZ, with embedded algorithms enabling ever-higher energy reliability and efficiency.
MasterPact NW
Circuit breakers to protect lines up to 6300 A
MasterPact NT
Circuit breakers to protect lines up to 1600 A, in a compact frame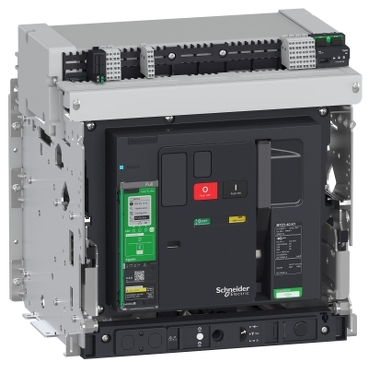 MasterPact MTZ
Circuit breakers to protect lines up to 6300 A, offering advanced digital features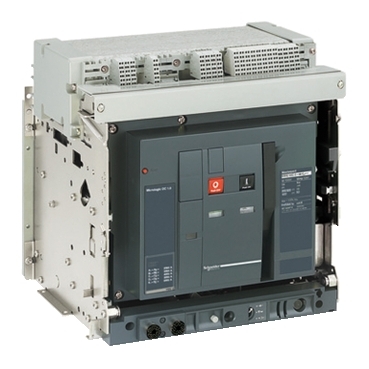 MasterPact for Direct Current
Circuit-breakers to protect DC energized lines, up to 4000 A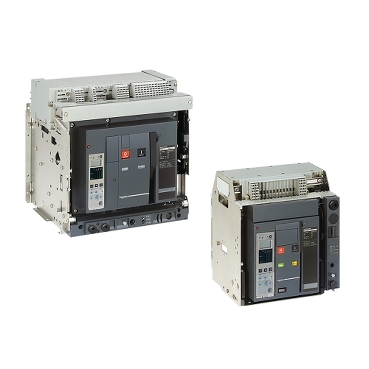 MasterPact for Navy
Circuit breakers to protect lines up to 4000 A, certified for Navy applications
MasterPact UR
Ultra-fast circuit breakers, to protect lines up to 5000 and 6000 A, under extremely powerful energy supply conditions.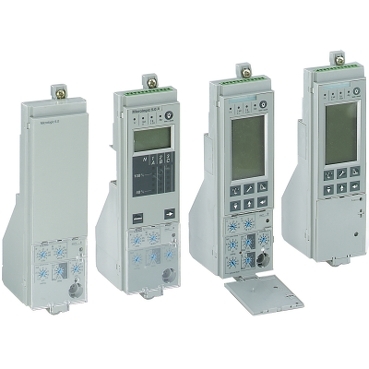 MicroLogic
Electronic control units for Masterpact NT/NW /UR and for Compact NS
Features
The worldwide benchmark for high current circuit breakers
MasterPact NW circuit breakers are equipped with MicroLogic control units that offer built-in power and energy metering in addition to basic or advanced protection functions. Two sizes are sufficient to cover applications from 800 to 6300 A, with breaking capacity from 42 to 150 kA.
The range comes with a wide choice of standardized accessories. The universal design of the MasterPact circuit breaker line allows most accessories to be used across the entire line. It enables standardization of electrical switchboards by providing peace of mind in terms of choice, installation, and operation.
Specifications:
Rated current: 800 to 6300 A

Breaking capacity: 42 to 150 kA at 220/415 V AC

Voltage rating: up to 1150 V AC

2 physical sizes: 800 to 4000 A, and 4000 A to 6300 A

Draw out and fixed mount

3-pole and 4-pole construction

Electronic MicroLogic control units, integrating current, voltage, power and energy metering enabling energy management, earth leakage protection, and other advanced protection or network analysis functions

Switch disconnectors version available

Optimized range of field-installable auxiliaries and accessories

Different offers complying with different international standards: IEC 60947, UL489, ANSI/UL1066

CCC, EAC and other local certifications

Compliance with specifications of marine classification companies: Bureau Veritas, Lloyd's Register of Shipping, Det Norske Veritas, etc.
MicroLogic control unit specifications:
4 levels of protection against overloads and short circuits: 2.0 (LI), 5.0(LSI), 6.0(LSIG), 7.0 (LSIV, built-in earth leakage protection)

4 types of measurement: A (Ammeter), E (Energy), P (Power), and H (Harmonics)

Energy reduction maintenance setting (ERMS) function available for arc flash protection for MicroLogic P and MicroLogic H

Measurement accuracy: Class 0.5 for voltage, Class 1.5 for current, and Class 2 for active power and energy

Compatible with both Ethernet and Modbus SL protocol

Operating assistance to diagnose tripping cause and maintenance information

Benefits
MasterPact NW circuit breakers contribute to reliability and continuity of service of your electrical installation thanks to:
Optimized safety
Faultless protection

Increased uptime with improved coordination with MicroLogic electronic trip unit adjustability

Complete selectivity and coordination

High resistance to environmental stresses
Integrated monitoring for energy efficiency
Improved uptime with complete monitoring solution in Smart Panels

Seamless integration into power monitoring systems enabling to track energy consumption trends, anticipate potential damage and improve network reliability


Local and remote communication with trip cause (earth leakage, overload, short-circuit) and alarms (earth leakage, overload) allowing proactive operational and energy efficiency

Advanced MicroLogic control unit can assist in providing corrective, preventive and predictive maintenance, and energy management to identify potential savings: energy consumption data, operation follow-up, network monitoring, preventative and predictive maintenance information, pre-alarm and alarm events

Applications



General applications in all types of low voltage electrical installations
Suitable in most applications for protection, measurement, monitoring and quality of energy, including generator protection and motor protection, in standard applications and specific applications demanding high performance, including:
Industry: mining operations, minerals, metals, and cement production, water & wastewater industry, automotive, food and beverage, etc.

Oil & Gas extraction and processing, Chemicals industries

Data centers infrastructure

Healthcare infrastructure, hospitals

Marine and offshore industry

Infrastructures: airports, railways, subways, tunnels, power plants, etc.

Buildings: commercial buildings, hotels, offices

Wind turbines, solar, gensets
Special applications
Photovoltaic and DC networks (MasterPact NW DC & DC PV)

Corrosive industrial environments (special versions)

Mining industry (special 1000V versions)

High short-circuit current limiting (ultra-rapid MasterPact UR)

Navy (MasterPact NT and NW Navy)

UL 489 (MasterPact NT and NW UL 489 listed)

Source-changeover systems (TransferPact): service sector (hospital operating rooms, computer rooms, etc.), industry (assembly lines, ship engine rooms, etc.), infrastructures (runway, railway, etc.)