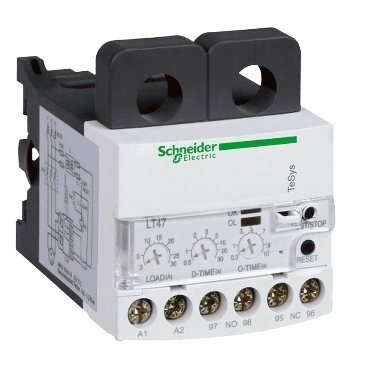 Electronic Over Current Relays (EOCR)
Schneider (LT4760M7A) EOCR Electronic Over Current Relay 5~60 A , 200~240 VAC
Model: LT4760M7A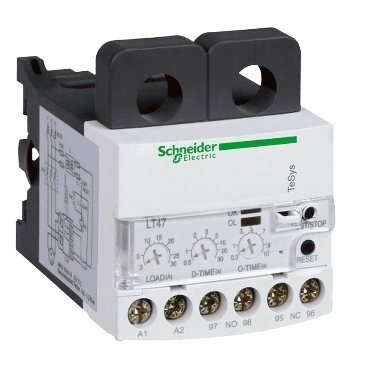 Description
LT47, solid state overload relay, compares motor current with preset load current threshold (LOAD).
Motor currents are monitored through two internal current transformers.
CT hole size is 12 mm in diameter.
Please don't allow excessive force on CTs.
D-Time counts down and is only available for motor starting.
During steady state, if motor current is greater than current setting(overloaded), LT47 switches its contacts after O-Time.
For shear-pin (mechanical shock) protection, set O-Time knob
to its minimum in order to trip in 0.2-0.3 s.
Details
product or component type
Electronic over current relay
device short name
LT47
device application
Protection
relay application
Overload Imax > Isetting
Locked rotor, mechanical jamming I > 3 x Isetting
Sensitivity to phase failure
[Us] rated supply voltage
200…240 V AC
thermal protection adjustment range
5~60A
[Ui] rated insulation voltage
Power circuit: 600V AC conforming to CSA
Power circuit: 600V AC conforming to UL
Power circuit: 690V AC conforming to IEC 60947-4-1
network frequency
50…60 Hz
mounting support
Rail
tripping threshold
5…50 A
electromagnetic compatibility
Resistance to electrostatic discharge: 8 kV in open air conforming to IEC 61000-4-2
Resistance to electrostatic discharge: 6 kV in direct mode conforming to IEC 61000-4-2
Conducted emission: class A conforming to EN 55011
Immunity to electromagnetic interference: 10 V/m conforming to IEC 61000-4-3
Immunity to fast transients: 2 kV conforming to IEC 61000-4-4
Surge withstand: 6 kV conforming to IEC 61000-4-5
Conducted HF disturbances: 10 V conforming to IEC 61000-4-6
auxiliary contact composition
1 NO + 1 NC
[Ith] conventional free air thermal current
3A for signalling circuit
associated fuse rating
3A gG for signalling circuit
3A BS for signalling circuit
[Uimp] rated impulse withstand voltage
6kV
time range
1…120 s – control type R-time
0.3…30 s – control type O-time
local signalling
1 LED (green)
1 LED (red)
control type
automatic: reset
connections – terminals
Signalling circuit: screw clamp terminals 1 12.5mm – cable stiffness: flexible with cable end
Signalling circuit: screw clamp terminals 1 12.5mm – cable stiffness: flexible without cable end
Signalling circuit: screw clamp terminals 2 12.5mm – cable stiffness: flexible with cable end
Signalling circuit: screw clamp terminals 2 12.5mm – cable stiffness: flexible without cable end
tightening torque
Signalling circuit: 1.7N.m M3.5
height
70.3mm
width
71mm
depth
77.2mm
net weight
0.192kg