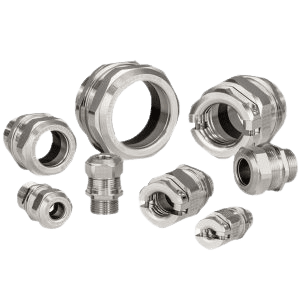 Nickel Plated Brass Glands
Nickel-plated brass cable glands are tried and tested helpers for correct cable entry in industrial equipment. If the correct choice with the right sealing insert, these glands can be used anywhere. The outstanding compression technology for use everywhere guarantees an effective seal and excellent cable-protecting strain relief, also by vibrations.
AGRO Progress® metal cable glands equipped with sealing inserts made of a special TPE are certified according to EN 45545 and NFPA 130 and can be used with confidence for any rolling stock application.
1- Short, long or special entry thread
Cable glands with short or long entry threads designed as metric, Pg, imperial or NPT can be used with existing opening threads or with a counter nut.
2- Visible safety
The small bulge in the sealing insert confirms the correct tightening torque.
3- High distortion protection
The integrated retaining grooves in the lower part and the sealing insert grant against twisting.
4- Great flexibility
It only takes a few seconds to adapt the two-part sealing inserts on-site to the existing cable diameters.
5- Guaranteed seal
Inner contours matched to the sealing insert ensure a targeted deformation of the insert and thus guarantee its tightness in compliance with protection class IP 68 up to 10 bar and IP 69K for a wide range of applications.
Other Properties:
Material: Nickel-plated brass
Seal: TPE
O-ring: NBR
Temperature range: -40°C / +100°C
Protection class: IP 68 (up to 10 bar)
Further protection: IP 69