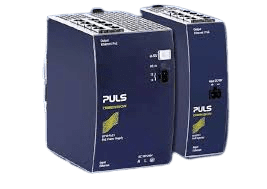 Power Supply With Monitoring Display
The CP20.248 is a DIN-rail mountable single-phase-input power supply, which provides a floating, stabilized and galvanically separated SELV/PELV output voltage.
The device has a condition display integrated which shows real-time and recorded data informing about the condition of the power supply and the power line.
A DC OK signal, an alarm signal and a remote ON/OFF make the unit suitable for many applications, where preventive function monitoring and remote control can help to avoid costly downtimes.
The device has a power reserve of 20% included, which may even be used continuously up to +45°C. Additionally, it can deliver 3 times the nominal output current for 12ms, which helps to trip fuses on faulty output branches.
The device is equipped with a "Single Use / Parallel Use" feature, which enables load sharing between power supplies when they are connected in parallel.
The Dimension CP-Series are cost-optimized power supplies without compromising quality, reliability and performance. The most outstanding features of this series are the high efficiency, electronic inrush current limitation, active PFC, wide operational temperature range and extraordinary small size.
Specifications
DIN-rail power supplies for 1-phase systems 
AC 100-240V Wide-range input
24V, 20A output
Width only 48mm
Display for condition monitoring and easy analysis of power errors
Efficiency up to 95.6%
20% output power reserves
Easy Fuse Breaking – 3 times nominal current for 12ms
Safe HiccupPLUS Overload Mode
Full power between -25°C and +60°C
DC OK relay contact
ALARM relay contact
Remote ON/OFF functionality
Current sharing feature for parallel use