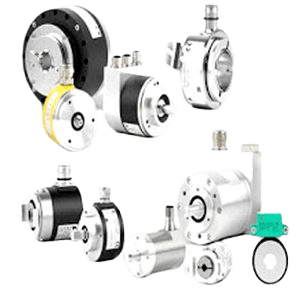 Rotary Encoders
Rotary encoders can be used in all applications that require monitoring rotation rate, speed, acceleration and direction. These sensors can be utilized in many applications found in mechanical engineering, the conveyor industry, material handling and the packaging industry. You are certain to find a suitable rotary encoder for your application from our broad product offering.
In automation, rotary encoders are used as sensors for angle, position, speed and acceleration. Linear motion can also be measured through the use of spindles, gear racks, measuring wheels or cable pulls.
Rotary encoders convert a mechanical input into electrical signals, which can be processed by counters, tachometers, programmable logic controllers and industrial PCs.