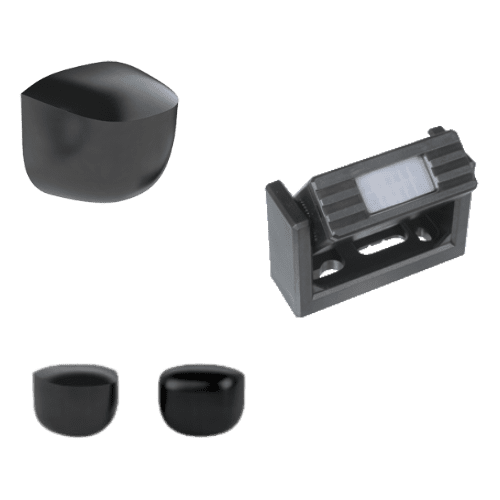 Motion & Occupancy Sensor
Passive infrared motion sensor PIR20/31 sw
Door activation sensor
One of the smallest sensors for person detection
Reliable detection through change in the thermal image from +/- 0.5 °C
Accurate and seamless field adjustment through aperture and zoom function
Function only in case of movement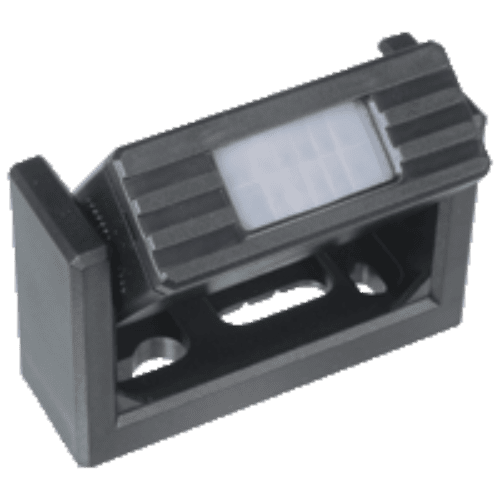 Technical Data
Product Description
Presence detector using infrared heat radiation for detecting people, detection range 1.8 m x 2.6 m, max. installation height 5 m, black housing, relay contact output, screw terminals

General specifications
Effective detection range
max. 12 m (frontal)
Detection field
max. 1800 mm x 2600 mm for a mounting height of 2500 mm
Functional safety related parameters
MTTFd

Relay load 12 V/10 mA: 500 a*
Relay load 24 V/10 mA: 350 a*
Relay load 6 V/100 mA: 100 a*
Relay load 30 V/1 A: 0.1 a*

*For 200,000 switching cycles/year in each case

Indicators/operating means
Function indicator
LED red: illuminates upon detection
Control elements
Zoom screw for adjusting the detection field , sensitivity adjustment , changeover switch, active/passive
Electrical specifications
Operating voltage
12 … 24 V AC / 12 … 30 V DC
Output
Switching type
Output active/passive, programmable
Ambient conditions
Ambient temperature
-20 … 60 °C (-4 … 140 °F)
Mechanical specifications
Degree of protection
IP52
Connection
screw terminals, removable
Material
Housing
black ABS
Optical face
plastic lens
Associated Products
Accessories


Protection from adverse effects of weather such as rain, snow, etc., Material: black ABS

Flush-mounted frame for sensors in the PIR20
Specifications
Details: PIR20/31 sw

Function

The PIR20 passive infrared scanner enables problem-free detection of people. It detects movement as soon as the temperature differential between an object and its environment is greater than ± 0.5°C. The detection range can be accurately set by means of zoom adjustment and lens apertures. The PIR20 detects people approaching as a door.
Opening Doors Made Easy—ECHO Radar Motion Sensors
The new radar motion sensors from Pepperl+Fuchs enable automatic doors and gates to be opened reliably and cost-effectively. Based on powerful 24 GHz technology with microprocessor control, the ECHO radar sensors detect people and objects even under difficult conditions. Two different versions are available for different applications and areas of use: the standard ECHO-D variant and the basic ECHO-M variant. 
The Ideal Solution for Every Door
The ECHO-D opening impulse sensor with dual antenna offers all standard functions for the efficient operation of automatic doors. The radar sensor is approved worldwide for the detection of moving objects on automatic doors. Whether cross-traffic suppression, direction detection or slow-motion mode: the ECHO-D can be flexibly configured for a wide range of detection tasks. As a highlight, remote control enables particularly convenient operation. Furthermore, a high level of interference immunity makes the sensor insensitive to environmental influences such as rain, fluorescent lights or vibrations. This ensures smooth operation in outdoor areas without additional protective measures.
The ECHO-D radar motion sensor reliably detects moving objects on swing doors worldwide.
The economical ECHO-M opening impulse sensor is equipped with a mono antenna. This sensor is suitable for basic applications in regions where simple motion detectors are permitted on revolving and sliding doors. From design to manufacturing, Pepperl+Fuchs guarantees compliance with the highest quality standards so that the devices always reliably detect the presence of people and objects.
ECHO Radar Motion Sensors Highlights
Opening impulse sensors for reliable detection of persons and objects at automatic doors —with powerful 24 GHz technology
Two versions available for different applications and areas of use
Increased durability due to solid electronic and mechanical design
Quick and easy commissioning by remote control or push buttons and visible angle mark
Especially compact housing and customizable color—for discreet integration into any door design
Robust Construction
Robust Construction, Discreet Design, Simple Commissioning

Due to a robust electronic and mechanical design, the ECHO opening impulse sensors impress with high durability and tamper resistance. The solid-state relays provide increased switching frequency compared to mechanical relays, maximizing service life. In addition, the devices can only be opened by trained personnel, protecting them from tampering by passers-by.

The radar motion sensors are quick and easy to commission: Large, highly visible push buttons allow sensitivity to be set with one hand. The detection field can be changed by simply rotating the antenna horizontally or vertically. A visible angle mark and an acoustic signal provide additional convenience in handling.

Large push buttons, a rotatable antenna and a visible angle mark—these features make commissioning of the ECHO radar motion sensors particularly easy.

With their miniature cubic housing, the ECHO sensors can be seamlessly integrated into any door design. Different cover colors allow the sensors to blend discreetly into their surroundings. In addition, the motion sensors offer maximum flexibility during installation: besides wall and ceiling mounting, it is also possible to recess the sensors completely into the ceiling using a ceiling mounting kit. Forglass or steel doors where rear mounting is not an option, two side cable entries can be used. In this way, the opening impulse sensors adapt perfectly to many different installation environments.
Radar motion sensor ECHO-D black
Standard radar motion sensor
Detection of people and objects for automatic doors
Bidirectional sensing and adjustment of detection field
Remote control or push button for functionality setting
Wall and ceiling mountable
Technical Data
Product Description
Standard radar motion sensor with basic functionality, detection range 2 m x 4.5 m, max. installation height 4 m, black housing, solid-state relay, cable connection
General specifications
Sensing range
2000 x 4500 mm (DxW) at 2200 mm mounting height and 30° inclination angle
Function principle
Microwave module
Detection speed
min. 0.05 m/s
Setting angle
Rotation angle
-40 … 40 ° in 5 ° increments
Inclination angle
0 … 90 ° in 5 ° increments
Operating frequency
24.15 … 24.25 GHz K-Band
Operating mode
Radar motion sensor
Transmitter radiated power (EIRP)
< 20 dBm
Functional safety related parameters
MTTFd
Mission Time (TM)
20 a
Diagnostic Coverage (DC)
0 %
Indicators/operating means
Function indicator
detection : LED green
push button indication : LED yellow / green
Control elements
Push button for selection of operating modes : sensitivity , direction detection , cross-traffic suppression , slow-motion mode , relay switching type , hold time , immunity
Electrical specifications
Operating voltage
12 … 24 V DC ± 10 %
No-load supply current
≤ 55 mA at 24 V DC
Power consumption
≤ 1.32 W
Output
Switching type
Normally open/closed (NO/NC)
Signal output
solid-state relay
Switching voltage
max. 28 V AC / 36 V DC
Switching current
max. 0.1 A AC / 0.1 A DC
Hold time
1.5 s / 3 s
Approvals and certificates
CE conformity
2014/53/EU This device can be used in all countries within the European Union. In other countries, all applicable national regulations must be observed.
CCC approval
CCC approval / marking not required for products rated ≤36 V
Ambient conditions
Operating temperature
-20 … 55 °C (-4 … 131 °F)
Storage temperature
-30 … 70 °C (-22 … 158 °F)
Relative humidity
max. 90 % non-condensing
Mechanical specifications
Mounting height
max. 4 m
Degree of protection
IP54
Connection
Connecting cable 2.5 m included with delivery
Material
Housing
PC (Polycarbonate)
Mass
approx. 70 g
Dimensions
75 mm x 64 mm x 50 mm
Associated Products
Accessories
Suitable for programming radar motion sensors from the RMS-D-RC, RAVE-D, and ECHO-D series, Convenient and precise adjustment of sensors with high mounting height, Also suitable for programming third-party brand products, Unidirectional operation
Installation without tools
Details
Details: ECHO-D black

Function

This device is a radar motion sensor with basic functionality. The functionality is based on the 24 GHz radar technology.

The basic functionality which can be activated includes among others direction detection, cross-traffic suppression, and immunity.

The sensor is integrated in a simple and well-designed housing. The opening impulse sensor is easy to mount and to commission.

The built-in antenna enables bidirectional sensing.

This version has a wide detection area.