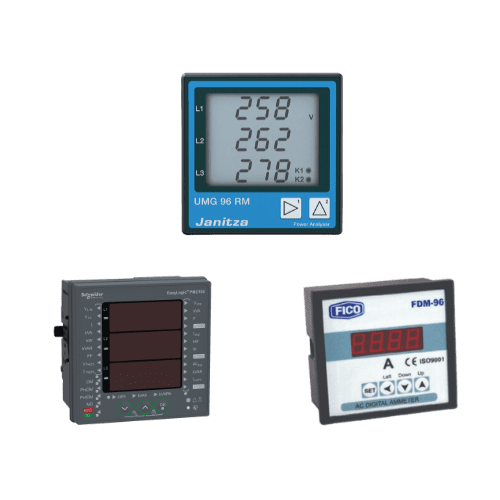 Panel Meters & Energy Analyzers
Digital & Analogue Tye Meters
PDM-PA ( 96 X 82 ) is a power analyzer and digital panel meter in Pakistan. It can measure and display all the electrics, Four modules can be plugged in together: RS-45 communications, digital input/output, energy pulse, and DC 4~20mA analog meter output, So as to meet all kinds of demands
Measurement Parameters
Voltage (Ph-N); Current ; Frequency ; PF ; Active Power(W); Reactive Power(Q); Apparent Power(S)
Accuracy o.5%
RS-485 interface port support, 32 (128) Networking, ModBus-RTU communication protocol.
AC85~265V / DC85~330V, DC18~90V (optional)
Power Consumption: <4VA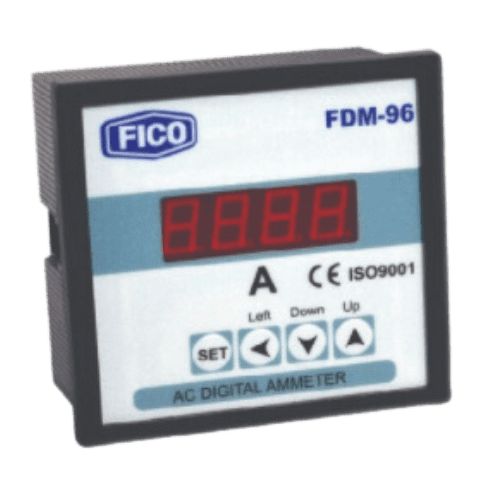 EasyLogic PM2120
This device is a panel mount or flush mount power meter with a 96mm by 96mm bezel size having 3 rows of bright red 4 digits 14.2 mm height LED display. The meter measures active energy as per accuracy class Class 1.0 complying to IEC 62053-21 standard with sampling rate of 64 samples per cycle. Able to measures all three vectors of power and energy such as Active, Apparent & Reactive beside Voltages, Current, Frequency and Power Factor. Plus the total Harmonic Distortion and Individual harmonics up to 15th Harmonic order. The meter will function in either 50Hz or 60Hz network frequency and accepts universal control power voltages ranging from 44 to 300 V Line to Neutral AC or DC voltages. Rated current for this meter is either 1A or 5A input. it supports up to 13 different types of wiring schemes under Single Phase, Two Phase or Three Phase configuration types. The range of measurement voltage between Phases is 35 to 480 V Line to Line AC at 45 to 65 Hz while it is 20 to 277 V between Line and Neutral. It is having RS485 communication port over Modbus RTU protocol. Product dimensions are as follows: width 3.78 in (96 mm), depth 2.16 in (54 mm), height 3.78 in (96 mm) and product weight 10.58 oz (300 g).
COMPACT, RELIABLE & MULTIFUNCTIONAL
AREAS OF APPLICATION

Measurement, monitoring and checking of electrical characteristics in energy distribution systems
Recording of load profiles in energy management systems (e.g. ISO 50001)
Acquisition of the energy consumption for cost centre analysis
Measured value transducer for building management systems or PLC (Modbus)
Monitoring of power quality characteristics, e.g. harmonics up to 40th harmonic
Residual current monitoring (RCM)